Get Well Flowers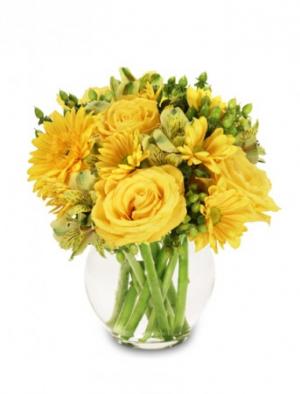 Sunshine Perfection
Floral Arrangement
Talk about a ray of sunshine! This bunch of yellow roses, alstroemeria and gerbera flowers in a simple vase is a burst of happiness. Let this flower arrangement spread some sunshine to the perfect people in your life.
Order within 4 hours 35 minutes for Same Day Delivery!
Hospitals and Health Care Providers in Our Delivery Area:
---

Name
Address
Phone

---

Breezes Retirement Residence
1385 Regent St Sudbury, ON. P3E 3Z1
(705) 522-6662
Casa Bella Senior Citizen Apt
340 Mcleod St Sudbury, ON. P3E 5Y4
(705) 675-8080
Champlain Lodge Retirement
82 Ignatius St Sudbury, ON. P3C 5G3
(705) 675-1999
Extendicare Falconbridge
281 Falconbridge Rd Sudbury, ON. P3A 5K4
(705) 566-7980
Extendicare York
333 York St Sudbury, ON. P3E 5J3
(705) 674-4221
Finlandia Village
233 4th Ave Sudbury, ON. P3B 4C3
(705) 524-3137
Harvey Retirement Home
455 Harvey St Sudbury, ON. P3B 2H9
(705) 674-3247
Health Sciences North
41 Ramsey Lake Rd Sudbury, ON. P3E 5J1
(705) 523-7100
Health Sciences North Sudbury Outpatient Centre
865 Regent Street South Sudbury, ON. P3E 3Y9
(705) 671-1000
Hsn Sudbury Mental Health & Addictions Centre
680 Kirkwood Dr Sudbury, ON. P3E 1X3
(705) 675-5900
Just Like Home
294 Albinson St #2 Sudbury, ON. P3C 3W3
(705) 673-4222
Lasalle Residence
1758 Lasalle Blvd Sudbury, ON. P3A 5W4
(705) 560-8787
Palambro Palace
1315 Regent St Sudbury, ON. P3E 3Z1
(705) 523-5295
Sudbury General Hospital
700 Paris St Sudbury, ON. P3E 3B5
(705) 674-3181
Sudbury Pioneer Manor Ctr Ofc
960 Notre Dame Ave Sudbury, ON. P3A 2T4
(705) 566-4270
Walford
99 Walford Rd Sudbury, ON. P3E 6K3
(705) 523-2686
Westmount
599 William Ave #84 Sudbury, ON. P3A 5W3
(705) 566-6221
Garson Manor Nursing Home
Po Box 10 Stn Main Garson, ON. P3L 1S5
(705) 693-2734
Medowbrook Village
18 Jacobson Dr Lively, ON. P3Y 1C3
(705) 692-1832
Letting someone know you're thinking about them when they're sick or feeling down can make such a difference. Send your friend or loved one the gift of flowers to lift their spirits. Get Well Soon gift baskets are another great choice. We can fill them with juice and snacks, which is perfect for someone needing their bed rest. LOUGHEED'S FLOWERS can deliver to all local hospitals as well as homes in Sudbury and even across the country! Give us a call, stop by, or shop online! We have everything you need for Get Well wishes.